The 150th patient was recently treated by the newly established IVC Evidensia Care Fund and, such is its success, more cases are being added daily.
The fund, which was launched last autumn, gives every vet working for the company vital funds to spend on treating an animal that could otherwise be facing euthanasia.
In a few short weeks, a pilot trial saw the IVC Evidensia Care Fund provide assistance to 70 animals, saving the lives of the majority of those patients where otherwise the outcome may have been very different.
With vets having a budget of up to £1000 each year, some £55,000 was spent on the crucial care of the animals whose owners couldn't meet the costs.
Throughout the group's practices all over Europe, it's anticipated that between 1500 and 2000 animals a year could be helped, with a contribution from IVC Evidensia of around £1.6million.
Now the plan is to expand the reach of the fund hugely within the UK by increasingly highlighting its use to vets, vet nurses and members of the support team.
The fund was very much the brainchild of IVC Evidensia Group Chief Executive Steve Clarke who was determined to see it come to fruition. And Alistair Cliff, Chair of the Group Veterinary Medical Board, was charged with making it happen.
"We are a major employer across 12 countries and our ability to influence how things develop in the profession is very significant," said Alistair.
"We have a strong belief in impacting on animal wellbeing and doing so in a real way, not by smoke and mirrors. Providing funding to deserving owners and pets is a great example of that."
Each full-time vet has an annual allocation of £1000, with part-time vets being given a pro-rata allocation.
It can be used on either one case or multiple cases. If the vet is satisfied that the owner can't pay but they could save the animal with no need for ongoing medical or surgical treatment, they make a simple, streamlined claim and go ahead with the treatment.
Although it may be primarily used for cats and dogs, all species can be considered.
"As a vet myself, I know all too well the daily pressures vets face with cases where there is a simple solution, but the owners just aren't able to cover the costs," said Alistair.
"The vet ends up standing in front of a devastated owner facing the loss of a pet for the sake of a relatively small amount.
"I have found myself in that situation many times and it is absolutely horrible. There is no greater stress in the life of a vet than the pressure you feel when you have to go against everything you've been taught and are facing the euthanasia of an animal.
"It's out of your control from a financial perspective but within your control from a clinical perspective because you know you could fix that animal in an hour."
As so many in the veterinary profession know only too well, the result is often 'compassion fatigue' with stress building up through constantly having to provide emotional support.
"In our world that switches every 15 minutes," said Alistair. "You can be having the happy vaccination of a puppy then 15 minutes later you can be ending the life of a loved pet.
"The rollercoaster of emotions is one of the biggest factors in work-life stress of our vets, our nurses, our reception teams, anyone who has any contact with that pet.
"The whole practice environment feels that stress."
After getting the IVC Evidensia Care Fund up and running and seeing it through the pilot project, Alistair handed over the day-to-day running to Dave Martin who was recently appointed as Group Animal Welfare Advisor.
While planning was well in hand before COVID-19 struck, the impact of the pandemic was quickly identified. And the effect on pet owners hard hit by the pandemic became clear.
"We are seeing good, loyal clients who have really looked after their animals but have fallen on hard times financially through no fault of their own," said Dave, who is a Clinical Director at Brownlow Veterinary Group in Shropshire.
"They may have been on furlough or have lost their job and then luck has kicked them in the teeth with their pet having some illness, disaster or accident.
"In normal times they would have been able to weather that storm but now they can't. It's almost as if the animal's situation is the straw that breaks the camel's back.
"With the Care Fund, we can step in and help them through that rather than having to see an animal put down unnecessarily."
As practices become more familiar with the IVC Evidensia Care Fund set-up, the number of cases has been growing fast and it's anticipated that take up within the UK will be as high if not higher than other countries.
And unsurprisingly, vets have been hugely supportive of the Care Fund rollout. As part of the process, both they and owners provide their feedback and it has been virtually uniformly hugely positive in all cases.
"We can't extend this to every single animal and every single owner, but we felt there was a chance to help many of those owners," added Alistair.
"The IVC Evidensia Care Fund will be rolled out to all our countries and that's what will enable us to give support to up to 2000 animals a year.
"The impact, not just on owners but on all of our staff will be massive.
"Our clinical focus is driven by the unique concept of animal wellbeing, but as a company we believe that the wellbeing of our teams, our patients and their owners are closely interlinked.
"The Care Fund is the first of a number of initiatives that we intend to roll out.
They will provide support to all those stakeholders, adding value to our employees and putting happy, healthy animals back at home with their owners."
Case Study
The pilot scheme has already made a massive difference with Agata Witkowska, from
Holly House Vets
in Leeds, just one vet who has seen a life saved.
Seven-year-old cat Liquorice was brought in as an emergency case by her doting owners who thought that a swelling on her back left paw was a result of a cat bite.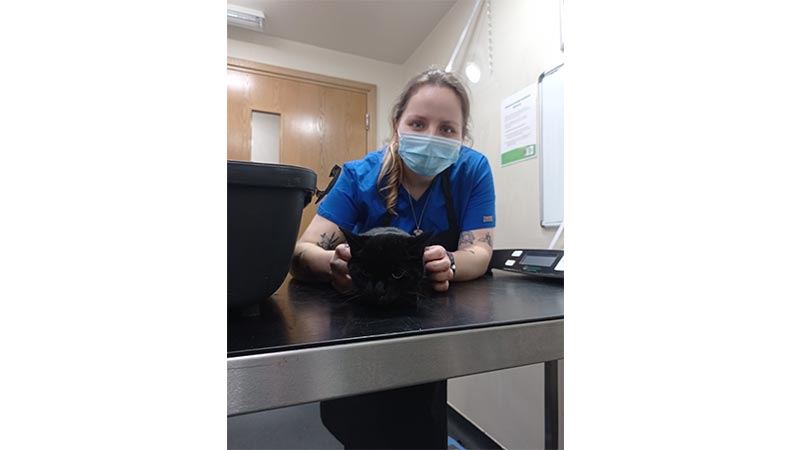 "She was a bit lame and uncomfortable and I could see the abscess wasn't caused by a bite," said Agata. "We sent a sample for analysis and as the results were initially inconclusive, we booked her in for a biopsy under anaesthetic.
"Unfortunately, that showed she had a medium grade soft tissue fibrous sarcoma. It was upsetting for both myself and the owners, as she really is such a lovely cat.
"She has never hissed, never scratched and is just the most placid cat on the planet. She's really a cat in a million."
Various treatment options were considered, including trying radiotherapy.
But with a low risk of the cancer spreading and Liquorice otherwise healthy, the best course of action was amputation.
However, she wasn't insured and the owners had already spent all they could on all the previous tests and could only afford half of the £2000 cost of the amputation procedure.
"If we didn't amputate then we'd have been looking at palliative care until she lost the use of the leg and, ultimately, euthanasia," said Agata.
"But as there was such a good prognosis if we did the procedure, we decided to use the Care Fund to contribute the other £1000 for the operation.
"She really was a good surgical candidate and a textbook case."