Statement from Chief Executive Officer
At IVCE we are committed to ensuring all employees are fairly rewarded for their work and have equal access to all opportunities.
In pay terms that means fair and equitable pay policies and pay decisions for all staff. We recognise that as Europe's largest veterinary care provider, what we do impacts the veterinary profession overall. Our gender pay gap statistics are not where we want them to be and, in line with the rest of the profession, we have some challenges to address in this area and we are committed to doing that.
As our reported numbers show, we rely overwhelmingly on women and this reflects the profession as a whole. Closing our gender pay gap will require long-term sustained focus from us all in the business and will be a reflection of broader cultural change.
The Board and I are fully committed to ensuring that we close the gender pay gap.
Steve Clarke, October 2021
All data as at snapshot date of 5 April each year
Proportion of males and females receiving a bonus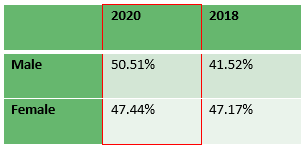 Proportion of males and females by pay quarter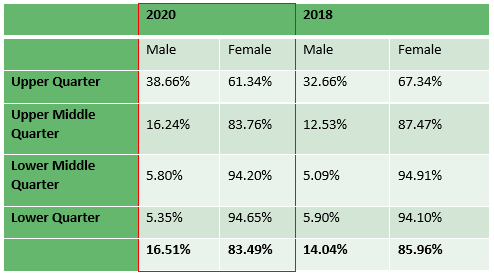 The distribution of men and women in roles across our entire UK business greatly affects the statistics here. On the whole far more women than men are employed not just in IVC but across the entire veterinary sector, and this is particularly true in the practice teams which make up the vast majority of our roles.
Within each quartile and job type, we are confident that our reward structure is based on objective and relevant factors and that rates of pay for specific roles are in line with market norms.
Some of the initiatives being undertaken in the business:
We have stated our intent to increase female representation in the senior management population to 50% by 2025
We are delivering Equality and Diversity Training to all staff as part of a mandatory training package
We are developing proposals to support mentoring, networking and career progression for our female employees
We continue to work on improving diversity and inclusion within the veterinary profession to make studying veterinary medicine available for all