The link between violence to humans and animals is well-documented and with domestic violence seeing significant increases this year, IVC Evidensia's Clinical Board have stepped up to support their staff, their clients, and the animals under their care.
During the first lockdown in the UK, calls to the National Domestic Abuse helpline increased by 49%
The Home Office Select Committee Report states that 14 women and 2 children were killed in the first 3 weeks
Police across the UK reported receiving 1 domestic abuse call every 30 seconds in the first 7 weeks
These statistics make for horrifying reading and will only have got worse since. Now we're into our second lockdown in England with firebreak lockdowns in Wales and Ireland completed and there is no guarantee of what the future holds with regards to further restrictions.

The family pet is quite often the first physical victim used as a way for the abuser to exert power over the human victim.
75% of women who have been subject to serious domestic violence report that their partner threatened to harm or actually harmed a family pet. This rises to 88% in families where there is physical child abuse occurring
But what can practice staff do when a Non-Accidental Injury (NAI) case is presented? Who can they turn to for guidance? How do they go about safeguarding the animal, the human victim, themselves? It's an incredibly hard and emotive subject to approach and the ripples caused by an NAI case continue long after for the staff involved.

It sometimes hits close to home for practice staff who are experiencing domestic abuse themselves – after all, 1 in 4 women and 1 in 6 men in the UK are victims.

The Clinical Board at IVC Evidensia feel that they have a professional responsibility to protect their patients, a responsibility as Clinical Directors to protect their staff and a moral responsibility, as humans, to look after their clients. In light of this, their Welfare Working Group have launched an NAI project within the group to provide training, support, guidance and raise awareness for practice staff.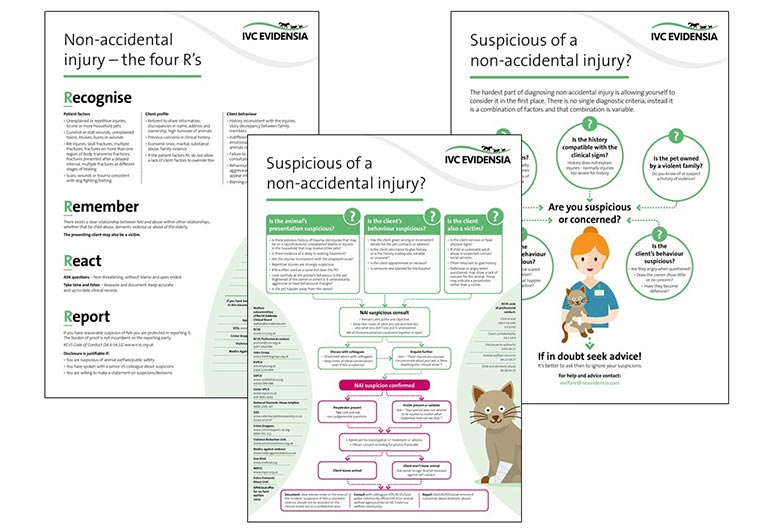 David Martin BVSc MRCVS, member of the Welfare Working Group at IVC Evidensia says,

"Certainly as far as I am aware that this is the first time a corporate UK practice has invested time and resources into raising awareness in respect of the serious problem that non-accidental injury represents in all of our practices be they small animal, farm animal or equine as well as our referral network.

He went on to say,

"We have also gone further than just providing education as we are providing real support to our practices that will be for the first time ever be available 24/7 which means that the practice that has to deal with one of these cases when the pubs shut on a Friday night or on a Saturday afternoon after the football has finished now have access to high quality advice and support within the group to support them in determining what steps need to be taken."

Paula Boyden, Chair of The Links Group, a collaborative initiative which provides training to veterinary teams to help them recognise and act on concerns of non-accidental injury and domestic abuse, said,

"This is a fantastic initiative from IVC Evidensia, really showcasing what employers can do to support their teams when they come across these challenging cases, which are sadly more likely now than ever due to the increase in reports of domestic abuse during the Covid-19 restrictions. We're looking forward to working with IVC Evidensia to promote this initiative and would encourage all practices to think about what protocols and support they can provide to their teams when it comes to these complex cases which include overlapping concerns for animal welfare and the safeguarding of staff and clients."

The IVC Evidensia Welfare Group have produced training for staff that includes webinars, a series of posters to highlight signs of NAI and a handbook to guide them if they feel they are faced with an NAI case along with a helpline for advice in the moment. There are various different types of support available for staff after the case has been dealt with as well as support for any member of staff affected by domestic violence.

Richard Sinclair BVM&S, MRCVS, also a member of the Clinical Board and Welfare Working Group says,
"I am incredibly proud of the work done on the NAI project and the support we will be able to provide as a group.

"The positive impact this will have on animal welfare and, hopefully, staff wellbeing within the group is an exciting prospect. Given that a project on this scale has never been undertaken the data we will have in the pilot year will provide a useful insight into this important topic."

Mental well-being advocate and CEO for the group, Steve Clarke said,

"This is such a fantastic initiative, though sad that it is needed. If we are able to help just one member of a practice team then all the work the Clinical Board have invested in this project will have been worth it."